Denver Sports Recovery
PERFORM. RECOVER. REBUILD.
Address
2242 W 29th Avenue
Denver, CO 80211
Recovery Center Hours
Monday-Thursday: 9:00am-9:00pm
Friday: 9:00am-6:00pm
Saturday: 10:00am-5:00pm
Sunday: 12:00pm-5:00pm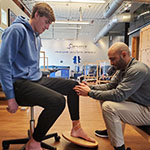 Denver Sports Recovery is a state-of-the-art rehabilitation center that offers the most cutting-edge equipment designed to help patients attain optimal recovery.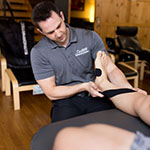 Denver Sports Recovery strives to provide excellent care in a welcoming environment. Memberships and walk-in hours make the process of recovery affordable and convenient.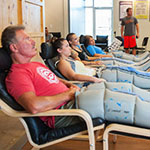 To learn more about treatment options and membership packages, call Denver Sports Recovery, or schedule a consultation online today.
Welcome
Denver Sports Recovery makes the high-quality sports recovery services that professional athletes depend upon available to people of all ages and fitness levels living in the Denver, Colorado, area. The multidisciplinary team of providers at Denver Sports Recovery uses an integrated care approach to relieve pain and restore function so that anyone can experience injury recovery and improved physical performance.
INSTANTLY AT EASE.

"Cameron puts you instantly at ease and has DSR running like a Swiss Watch."

- Geoff K.

STAFF HERE ARE INCREDIBLE

"Staff here are incredible from front desk to ownership. I've seen just about everyone of their specialists as well. They are all experts of their own crafts and helpful. I have a membership to the recovery center as well and frequently see the PT Steve. He's probably the most knowledgeable person on staff. 10/10 recommend this place to everyone I know who is active."

- Dylan B.

Affordable to those of us who may not be pro athletes

A wide variety of recovery tools and resources as well as tools and resources to prevent injury all in one place. Highly competent professionals at your finger tips and it's affordable to those of us who may not be pro athletes. I've never seen any facility like it.

- KaVina

This place has it all and does it all.

This place has it all and does it all. Very rare to find a place this knowledgeable, well equipped, and accessible for all sports related recovery.

-

I went in for some preventative therapy and recovery

I had a fantastic experience at Denver Sports Recovery when I went in for some preventative therapy and recovery using their recovery center. Michael walked me through everything including explaining thoroughly what I need to work on. I was concerned that I might be walking into a place that pushes for membership and tries to get people to sign up for things they don't want to but that was definitely not the case. I would recommend any type of athlete or active person to check this place out and talk to Michael!

- David C

Nearly an immediate positive effect

Went for two dry needling sessions with Lauren Mendez. She was very friendly and professional, as was the staff at Denver Sports Recovery. I had deeply painful knots on both of my calves that didn't allow me to even run a mile. They're gone thanks to the dry needling sessions! Nearly an immediate positive effect. Would highly recommend.

- Jorge M

They have provided answers and options for me when I couldn't find any.

I recommend DSR to everyone I meet struggling with injury and chronic pain. They are experts at what they do. They have provided answers and options for me when I couldn't find any. I am so happy I found DSR. They are friendly and professional and offer an array of services.

- Isaac C