AL AND JEFF FROM DAILY BLAST LIVE (CHANNEL 9) VISIT DENVER SPORTS RECOVERY
THOMAS DENNY FULL-BODY COLD LASER LIGHT POD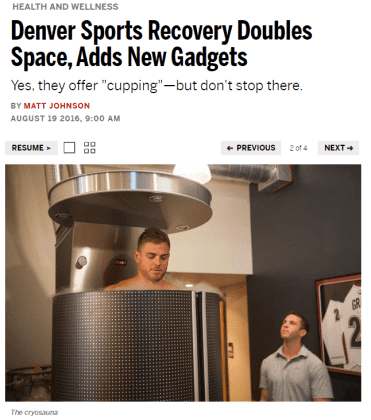 5280 DENVER MILE HIGH MAGAZINE ARTICLE
August 19, 2016
5280 Denver Mile High Magazine recently mentioned our expanded space and new gadgets. We are thankful to have support from 5280 Denver Mile High Magazine on our newly expanded sports recovery center. We offer services to both average athletes and professional athletes. Our expanded space is now 3,600 square feet. We have helped sports stars from the World's Strongest Man to multiple Denver Broncos players. Some of our most recent clients include former Bronco player Malik Jackson and local UFC fighter Brandon "Rukus" Thatch.In addition to the expansion we also added new machines, training tables, treatment rooms and a reception area with a retail space. If you aren't familiar with.
Denver Sports Recovery Center, some of the services we offer include:
Acupuncture
Laser therapy
Sports massage
Stretching
Cupping
Muscle activation
One of the new machines which we added to the center is a cryosauna which is still awaiting city approval. The cryosauna encourages anti-inflammatory and toxin –flushing response by safely exposing the body to temperatures as low as -256 degrees. Our newly expanded center will also be housing an infrared sauna. The infrared sauna will help with blood pressure reduction and skin rejuvenation by penetrating tissue with infrared light.
Our sports therapy center also houses 3 of our partner businesses:
NeuraPerformance (concussion and brain therapy)
Onus iV Hydration (IV treatment)
Invincible LLC (physical therapy)
We encourage athletes to walk-in, schedule an appointment or sign-up for one of our membership packages.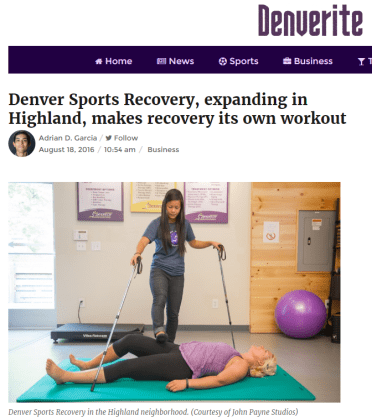 DENVERITE ARTICLE ON DSR EXPANSION
August 16, 2018
In July we expanded our athletic center in Highland and added new machines. We are thankful to have received support from online publication Denverite who mentioned our newly expanded sports recovery center at 2242 W. 29th Ave. in Denver Colorado. We spent more than $150,000 to double the space of our facility to 3,600 square feet.After maxing out our old space and feeling like we were working on top of each other we knew it was time to expand. We are thankful to have grown to more than 200 members since opening in 2012. At Denver Sports Recovery we teach people about "active recovering". Our sports recovery center works with athletes of all types on stretching and using the newest technology to help athletes recover. Memberships range in price from $89-$199.
Each of our memberships include unlimited access to:
Hot/cold tub
Infrared sauna
All recovery tools
Discounted rates with our specialists
In addition to our expanded space and new machines our partner therapy businesses also moved in with us during the past year.
NeuraPerformance which offers custom brain based programs for performance and brain health.
Onus iV Hydration which offers all the benefits of an IV without having to go to a hospital.
Visit Denverite to view the full article on our expansion.
BRIAN SHAW AND DENVER SPORTS RECOVERY DOCUMENTARY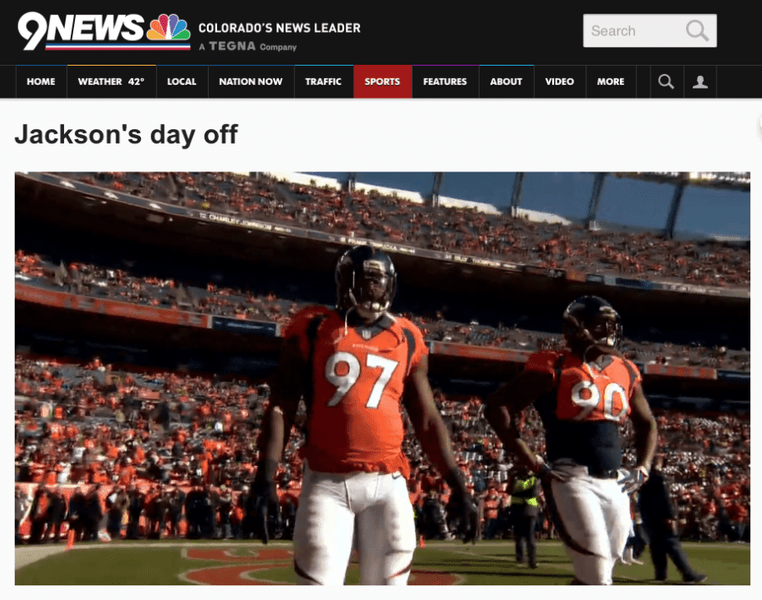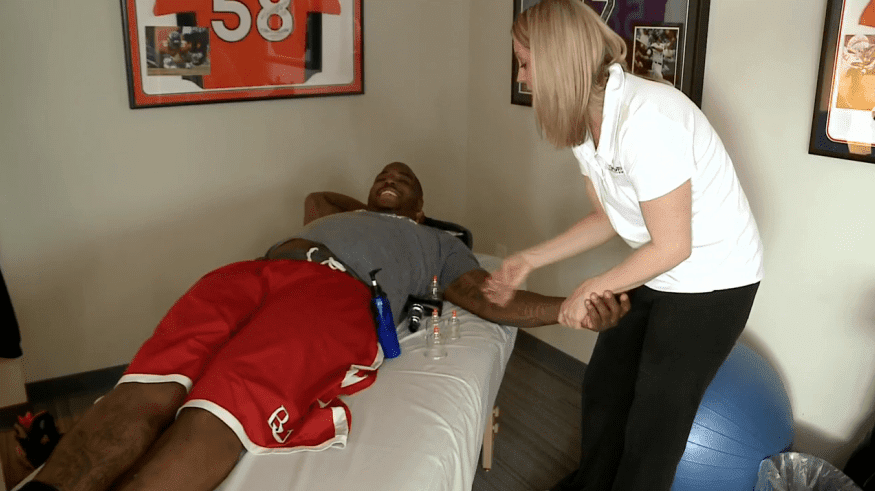 MALIK JACKSON'S DAY OFF ON 9NEWS
LOCAL NEW SPECIAL, DAN'S DAILY DESTINATIONS
GOOD DAY COLORADO, BACK TO SCHOOL SPECIAL
LOCAL NEWS SPECIAL ON DSR AND FASCIAL STRETCH THERAPY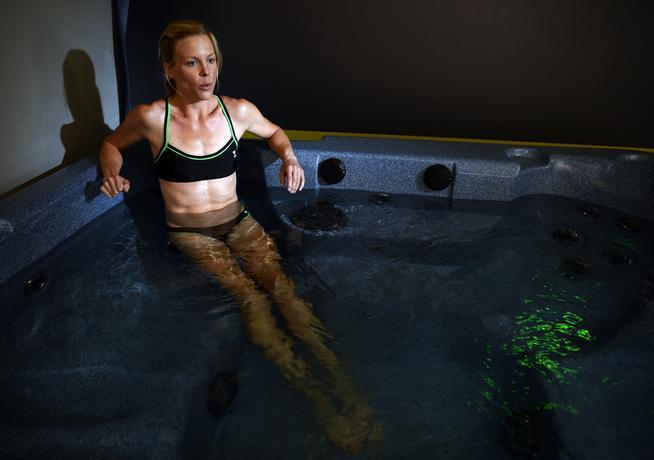 DENVER SPORTS RECOVERY FEATURED IN DENVER POST
June 18, 2014
Click here to check out the recent Fitness Tips article by William Porter from the Denver Post.
DENVER SPORTS RECOVERY FEATURED IN 5280 MAGAZINE
May 2018
Professional athletes aren't the only ones benefitting from Denver Sports Recovery's newfangled stretch therapy… Click here
HOLLY OSBORN CHECKS US OUT FOR 303 MAGAZINE
April 28, 2014
Perform, Recover, Rebuild at Denver Sports Recovery. Click here.
ERIC DECKER AND DEMARYIUS THOMAS E! ENTERTAINMENT COLD TUBS
DENVER BRONCO ZANE BEADLES STRETCHING AND RECOVERYING AT DENVER SPORTS RECOVERY
DR. MATT'S 21 DAY DETOX
September 2, 2013
Did all the summer bbqs and beers leave you feeling a little overweight, bloated, and unhealthy? Looking for a way to shed those extra pounds and clean out your system? Ready to take your health to the next level?
Kick-start the Fall with Dr. Matt's three-week detox program, starting September 21st, 2013!
And as our end of summer/back-to-school gift to you… From now until September 17th, We are offering this program for the ridiculously low price of $200!
Experts agree that it takes 21 days to establish new habits and behaviors. My program uses healthy food, tasty recipes, and a state-of-the-art detox formula to radically alter your health. Throughout this challenging and exciting process, you will be supported by me and by your fellow participants via group meeting.Here's what you can expect:
Increased energy
Weight loss
Reduced bloating
Clearer skin
Improved mood
A new understanding about what foods work for your individual body
Delicious meal ideas that you won't believe are actually healthy
"I would recommend this Detox plan to anyone who wants to change their current health condition. I feel really good. I have lost weight (12lbs in 21 DAYS) not by dieting, but simply by eating more often, and choosing good foods…I'm pleased with the results and have decided to do this 3 times a year." – SBNow you might be thinking, "This sounds great, but I don't have the time." Let me tell you, this program has been specifically designed to save you time.
You go to the grocery store at least once a week right? Well during the three weeks of the program you'll never have to wonder what to buy or make.
All your meals are planned for you and they taste great too!
Now I'm not coming over to cook for you, but the recipes are easy to follow, don't take long, and will actually provide you enough to eat for several meals.
Or maybe you're saying, "I'm scared to do a detox. I've never done one before."
This is actually the perfect program for a beginner
And let me reassure you, this is not some juice or lemonade fast that will have you grouchy, dizzy, and fainting. (If you want to know why I'm not an advocate of those types of detoxes, I'll cover that during our program!)
The process is simple and gentle.
You might experience some mild symptoms if you're a habitual consumer of coffee, alcohol, sugar, or processed foods but it likely won't last long.
Throughout the program, you'll have support from me and from the entire group – other people who are going through the exact same experience as you are, and who can offer their words of encouragement.
Or you could also be saying, "I would do it, but it's too expensive." Believe me, I can understand financial concerns, but this price is a great deal.
I've offered this program before at almost four times this price, but I want to give you an "offer you can't refuse"!!
I know that people see fantastic results from this program, so I'm committed to enrolling as many people as I can…which means I'm dropping the price point as low as it will go. (The detox formula alone retails for close to $75 typically…and I'm only charging $200 for the whole detox program.)
I won't keep the price this low for long though.
So what does this program include?
Meal plans and menus for all 21 days of the program (a value of $200)
Easy to follow, tasty and time saving recipes for all meals in the meal plans ($45 value)
1 canister of UltraClear Plus (21 servings) (retails for over $75!!)
Four group meetings with Dr. Reddy and the other amazing participants ($300 value)
2 Body composition measurements – One at the beginning and one at the end – to assess body fat percentage, muscle mass and much more! (a $100 value)
Total Cleanse Price: $200!
"My co-workers and family members are impressed that I went through this program and I continue to practice good eating habits. I am proud that I did it for myself." -CD, January 2011 detox participantI've been doing detox programs personally and with patients for the last 15 years. I'm continually amazed at the how they can transform health and vitality. Join us and see for yourself!"Working with Dr. Matt was a great experience. I learned a lot about what my body wants and needs and made some changes that work for me. The program impacted several different areas of my life, all in beneficial ways. Our meetings were always informative and fun. Dr. Matt allowed me to be focused and goal-oriented while giving me the space to be accepting and conscious about myself and my choices." -IJImagine how it will feel to complete this program! What will you do with more energy throughout the day? Can you imagine knowing what foods make you feel fantastic and which ones do not? Won't it be great to fit into those skinny jeans again?Sign up now to receive the amazing price of $200!
PRESS RELEASE
August 12, 2013
FOR IMMEDIATE RELEASE
Contact: Andria Hassler
Denver Sports Recovery offers everyday athletes access to services and recovery tools formerly only available to professional athletes
Aug. 12, 2013 – Denver –
While the average professional and elite athlete trains for hours each day over years and decades, most will tell you that it's the care and recovery of their body that keeps them going strong and performing at the top of their game. Combining the expertise of several of Denver's top athletic therapists, trainers and medical professionals with the tools and state-of-the-art equipment used by professional athletes across the world, the grand opening of Denver Sports Recovery (DSR) gives Colorado's most active, everyday athletes access to recovery equipment and services previously available to only the most elite and professional athletes. Located in Denver's Lower Highlands neighborhood, 2242 W. 29th Ave., Denver Sports Recovery offers comprehensive recovery tools including: medical grade hot and cold tubs; hot and cold therapy systems; NormaTec Recovery System; Light and Ultrasound Therapy; Cold Laser Stimulation; Magnetic Resonance Stimulation and much more. DSR services include:
Fascial Stretch Therapy
Sports Specific Therapy
Neuromuscular Therapy
Naturopathic Medicine
Acupuncture
Chiropractic
Muscle Activation Technique
Active Release Technique
Kinesio Taping
Dry Needling
"Rest and recovery are vital to the performance of athlete's at any level," said Andria Hassler, a soft tissue specialist who has worked with NFL and Major League Baseball athletes and numerous other professional and amateur athletes throughout her career.
"Proper and proactive recovery methods help active bodies replenish nutrients, increase flexibility and prevent injury." Hassler and fellow Denver Sports Recovery Founders Shawn Caldwell, D.C. and Marsha Prada, D.C., all Colorado natives, saw an opportunity to provide the resources and recovery tools that cater to active people and athletes at all levels.
"With Colorado's active outdoor lifestyles, diverse training opportunities and competitive sports scene, we're seeing a growing number of regular, day-to-day athletes with rigorous training routines," said Dr. Caldwell, team chiropractor for the Denver Broncos, Colorado Rockies and world-class athletes and performers from across the globe.
"We wanted to give these athletes the same access to recovery plans that professional athletes get and we want to see them take care of their bodies and see the results from proper active rest." Designed to fit the needs of a diverse athletic audience, it would not be unusual to see some of Denver's top professional athletes taking advantage of the resources and equipment offered at DSR.
"The more years I'm in the NFL and the older I get, the more I realize how important recovery is to my body and my career," said Denver Broncos wide receiver Eric Decker.
"Denver Sports Recovery is a one stop shop; everything you need for recovery in one place. The therapists and the people here that deliver the product and services are very good at what they do so it makes your experience that much more enjoyable and beneficial." With drop-in hours and scheduled appointments, daily passes, monthly and annual membership fees, Denver Sports Recovery offers diverse options for active people and athletes to treat their body right.
"We believe in our motto, 'Perform, Recover, Rebuild,' said Dr. Prada, team chiropractor for the University of Colorado and a regular provider to youth, high school and collegiate athletes from across the Rocky Mountain region.
"When you allow your body the chance to do all three, you'll definitely see and feel the results. We're incredibly excited to make Denver Sports Recovery a part of Colorado's very active and athletic community."
About Denver Sports Recovery Denver Sports Recovery was created with the desire to give everyday athletes and active people the opportunity to enjoy the same recovery and treatment plans as professional athletes. DSR provides a space that delivers the professionals, tools and services that can help active people and athletes recover in a way that enhances long-term performance and health objectives. For more information and/or appointments call 303-718-3435 or visit https://denversportsrecovery.com/ # # #
NEW RECOVERY CENTER LOCATION OPENING SOON!
July 10, 2013
We are excited for the upcoming opening of our new Recovery Center location. Check back for updates on the opening date. Until then, you can still make appointments.