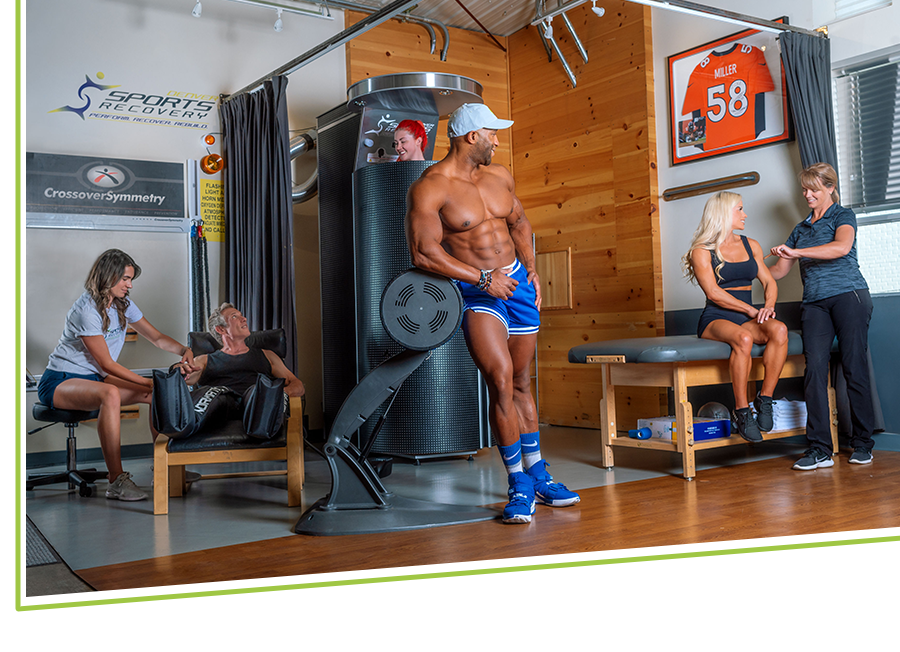 Recovery Specialist (Greater Denver Area, CO)
Location: LoHi neighborhood in Denver, CO. We are an in-office working model. Candidates must be willing and able to work from our Denver location for every shift.
Compensation Range: Depends on Experience
Shifts: Afternoons, Nights, and Weekends
About Denver Sports Recovery
Denver Sports Recovery is a state-of-the-art rehabilitation center that offers the most cutting-edge equipment and technology available in the region to help patients attain optimal recovery and reach peak performance. The clinic is equipped with cold and hot tubs, infrared saunas, and a variety of advanced therapeutic tools, including pneumatic compression, red light, electrical stimulation technology.
Denver Sports Recovery makes the high-quality sports recovery services that professional athletes depend upon available to people of all ages and fitness levels. The multidisciplinary team of providers at Denver Sports Recovery uses an integrated care approach to relieve pain and restore function so that anyone can experience injury recovery and improved physical performance.
The team of specialists creates customized treatment plans designed to meet the needs of the individual across a range of therapeutic practices. Patients benefit from a combination of services, including chiropractic care, sports massage, whole-body cryotherapy, class IV deep-tissue laser therapy, Active Release Technique, acupuncture, and a range of other modalities.
Our mission is to ensure everyone is to be treated like a world class athlete. We want everyone to have the same care as a Peyton Manning or Nikola Jokic.
A little about the role...
The Recovery Specialist maintains the daily functionality of the Recovery Center. He/she will give tours to prospective members, educate clients on benefits of recovery, assist clients using specific modalities, maintain facility equipment, and more. The person in this position must be engaging, service-oriented, and technically minded. The Receptionist must commit to excellence and provide the best customer experience, being one of the first impressions a client has when coming to DSR. Denver Sports Recovery is unique in its industry – used by more than 5,000 members clients monthly in the Denver area. For over 10 years, athletes and active individuals have looked to Denver Sports Recovery to provide the best solutions to maintain an active lifestyle.
What You Will Do...
● Educate clients on recovery center modalities, and physiological benefits of each modality.
● Assist clients while using said modalities.
● Maintain cleanliness of the facility. This includes care of maintenance of hot and cold tubs, sauna, equipment, and laundry.
● Deliver excellent customer service and support to clients via in- person interactions, education, and service.
● Maintain a positive, empathetic, and professional attitude toward clients at all times
● Provide insightful information on what the recovery center has to offer, membership packages and pricing, and basic overview on what providers offer at DSR
● Stay current with changes/updates and participate in training as required
● Punctual, regular, and consistent attendance
● DSR is open from 9am-9pm M-TH, 9am-6pm F, and 10am-5pm Sat-Sun. Employees will be scheduled for a shift within that time frame. This is a full-time, 35-40 hours a week role.
Requirements
Our Ideal Candidate Will Have...
● A high level of understanding in anatomy and physiology
● Willingness to learn new concepts in sports medicine
● Excellent communication skills, both verbal and written
● Knowledge of customer service principles and practices
● Active listening skills
● Multi-tasking capabilities
● Understand the scope of support to be provided to the customer and ability to recognize when issues needs to be escalated to supervisor
● Make client's needs a primary focus of one's actions, developing and sustaining productive customer relationships
● Able to work in the evenings and weekends
Benefits
Why DSR?
● Complimentary access to the recovery center
● Discounted products and services
● Casual workplace environment
● Team outings (in the past we have attended baseball games, company appreciation parties, etc.)
● Prime location close to restaurants and entertainment
● Promote from within- excellent career paths
Bonus Points:
● Associates or Bachelors degree and/or relevant experience
● Experience with customer-facing roles in a fast-paced environment
● A general understanding of healthcare and benefits
● Experience with Mindbody software
We are committed to being an equal-opportunity employer and evaluating qualified applicants!